September 1952 the 10th Fighter Wing Detachment is ordered to move to their definitive
home base Kleine-Brogel. Prior to this move new taxiways and a 10.000 feet runway are
constructed on top of the foundation of the old Canadian airfield. The move of support
personnel starts November 17, 1952, the aircraft follow February 23, 1953.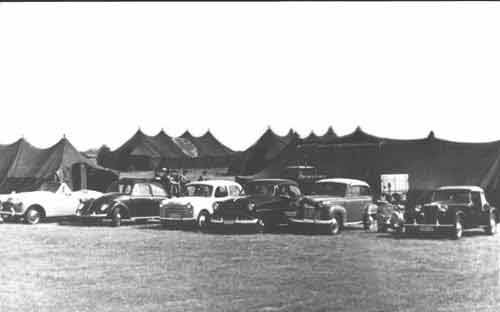 The first temporary but spartan homes of the 10th Wing at Kleine-Brogel during the spring of 1953.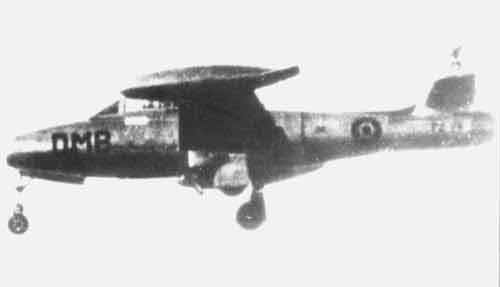 This F-84G Thunderjet marked DMB is the personal aircraft of
Lt.Col.Yvan Dumonceau de Bergendal, the first Wing Commander of the 10th Wing.
This FZ-74 is also the first jet to touch down at the new airbase of Kleine-Brogel February 23, 1953.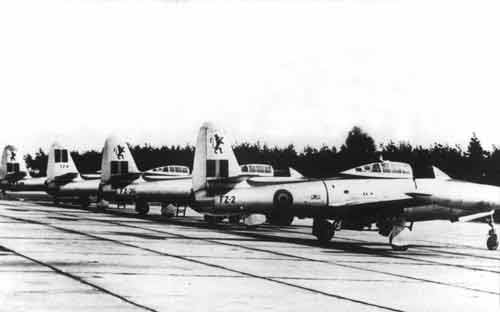 It did not take long for the aircraft tails of the 10th Wing to be decorated with a red lion.
The red lion of the province Limburg chosen by the 10th Wing as their Wing emblem.
Later the red lion is painted on a light blue shield.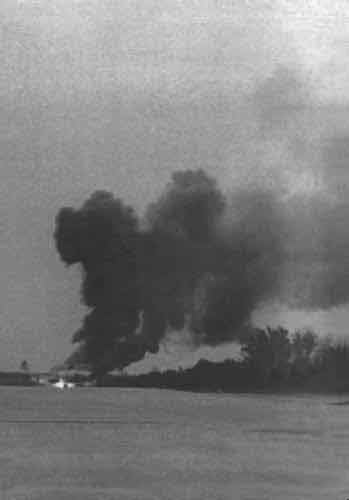 Exploding engines are a common problem during the Thunderjet era.
This happens March 12, 1953 during startup of the FZ-67/RA-I.
The ensuing fire completely destroys the aircraft.
The pilot, Robert Haelterman of the 27th Squadron escapes without injury.
This is the first 'crash' on the post war airfield of Kleine-Brogel