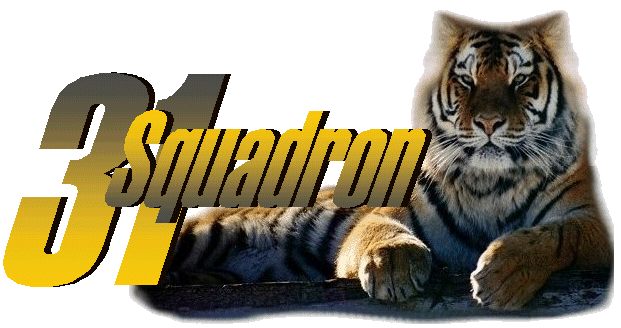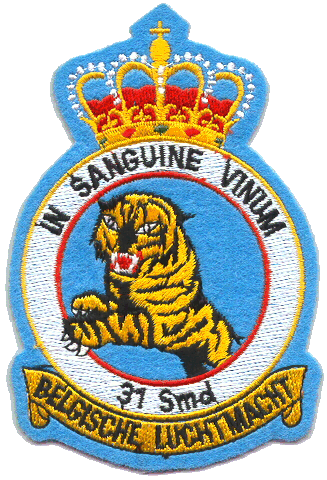 October 1, 1951 the 31st Squadron is established at Beauvechain. In December of the same year it joins the newly erected 10th Fighter Wing together with the 23rd and 27th Squadron.
From the start this squadron is faced with a lot of problems due to a shortage of aircraft and qualified personnel. As a result the first flight of the squadron is only flown January 4, 1952 with the renowned World War II veteran, the Spitfire Mk.XIV.
The last mission of the Spitfire is flown July 1952. The squadron again remains without aircraft. Pilots and ground crews are dispersed to the other two squadrons but without administratively disbanding the 31st.
The arrival of the Republic F-84G Thunderjet starts a new era. After a few months of flying on Lockheed T-33 Shooting Star Trainer as Flight VZZ (Instrument Flight Instruction) the squadron converts to Thunderjet in October 1953.
After a two year nomadic existence the squadron returns to Kleine-Brogel near the end of 1954.
The last F-84E's are transferred to Germany and Morocco after the arrival of the Republic F-84F Thunderstreak in 1956.
In a span of the next seven years 37000 flight hours will be logged on this aircraft.
The Belgian Tigers start operating the Lockheed F-104G Starfighter March 1964. Like many other Starfighter units they are assigned to the air-to-ground role within the NATO forces.

The last flight of the Starfighter in the Belgian Air Force is flown March 1983.
The previous year the first F-16A touched down at Kleine-Brogel. The conversion of the 31st Squadron starts November 1982 and is completed August 1983. March 1984 the squadron is reintegrated in NATO.
Since those days the squadron has participated in all major NATO exercises and has earned its spurs during the conflicts in the former Yugoslavia, Libya, etc…
On a regular basis the squadron deploys to Goose Bay (Canada), Nevada (USA) and in the past to Morocco to train very low altitude flying.
May 1991 the FA-94 is painted in a 'Tiger' scheme to commemorate the 40th birthday of the 31st 'Tiger' Squadron. By many, this tiger pattern is considered the most successful design ever made.