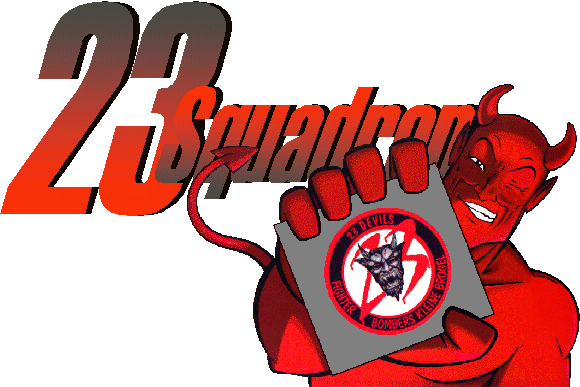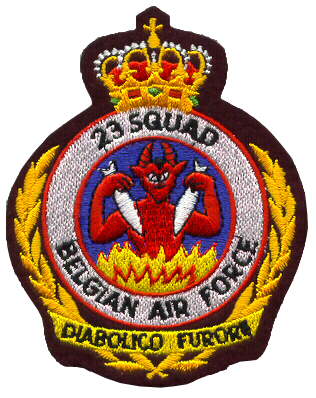 The roots of the 23rd Squadron lay at Chièvres where it is established September 1, 1951. In December of the same year it joins the newly erected 10th Fighter Wing together with the 27th and 31st Squadron. They all are equipped with Spitfire Mk.XIV.
During the summer of 1952 the Spitfire gradually disappears from the Belgian skies. The pilots of the 23rd Squadron start converting to F-84G Thunderjet, the first jet aircraft of the 10th Wing.
After a two year nomadic existence the squadron returns to Kleine-Brogel near the end of 1954.
In 1955 the Thunderjets are replaced by F-84F Thunderstreaks. The squadron becomes operational on this new jet medio 1956. The Thunderstreak is used in the air-to-ground role until 1966. The 'Devils' turn into real bombers.
In 1964 the F-104G Starfighter takes over at Kleine-Brogel. In spite of its bad reputation it is the source of many excellent scores during evaluations. Old pilots still speak with melancholy about the 'one-O-four'.
The last chapter about the 23rd Squadron is written by an airplane of a new generation. A high tech weapon system, new electronically controlled flight controls and extraordinary flight characteristics: the General Dynamics F-16A (now Lockheed-Martin).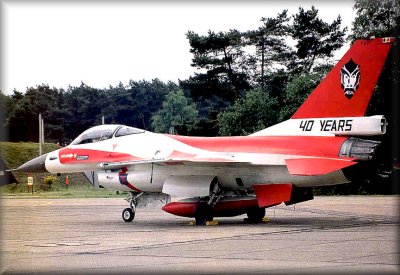 May 1991 the FA-91 is painted in a 'Devils' scheme to celebrate the 40th birthday of the 23th 'Devil' Squadron.

After a reorganization within de Belgian Air Force in 1988, 36 F-16's are taken out of service and two squadrons are disbanded. The 'Devils' cease to exist. The remaining pilots are assimilated into the 31st 'Tiger' Squadron.