Our actual meetings are by far the most important part of our club.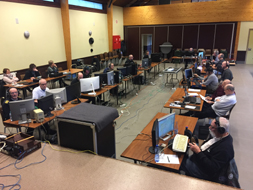 They provide an opportunity to meet other members and share the latest information concerning the flight simulator world.

During these meetings you can pose questions and solve problems regarding virtual flight.
Furthermore we fly together, attend briefings and share software.

On a monthly basis we organize one Sunday meeting during the day and one Tuesday meeting in the evening.

During the Sunday meetings we carry out organized club flights.
The Tuesday meetings serve the purpose of training, experimenting, briefings or mini courses.
During our meetings we provide full internet access !

To inform all our members what to expect the next meeting, the agenda of the next meeting is provided by e-mail.

If you would like to get acquainted with Flight Simulator Club '27th Squadron', visiting one of our meetings is the ideal opportunity.