Geilenkirchen, Germany, May 28, 1953 through November 20, 1954
Too much sand or too little cement during the construction of the runway and the taxitracks leads to serious 'concrete problems'. Cracking and chipping of concrete pose a real hazard for the sensitive jet engines of the Thunderjets. All flight operations are immediately suspended by the end of April, 1953.
As of May 20, 1953 the support personnel of both the 27th and the 23rd Squadron move to the British base Geilenkirchen in former Western Germany. One week later the aircraft follow.
After a deployment to Weelde from September 1 trough October 17, 1954 and a deployment to Sylt, Northern Germany from October 18 through November 19, 1954, the 27th Squadron returns to Kleine-Brogel.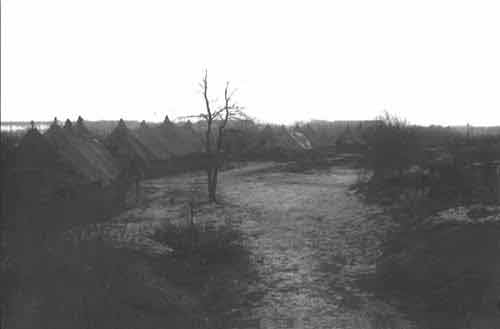 A very little luxurious dispersal of the 27th Squadron at Geilenkirchen during the autumn of 1953.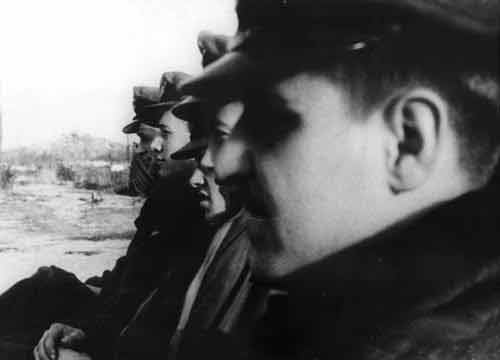 It is very cold outside...
f.l.t.r:
Marcel Homblé, Toon Vingerhoets, Jan Van der Biest, Vic Slegers en Chuck Van Heyste.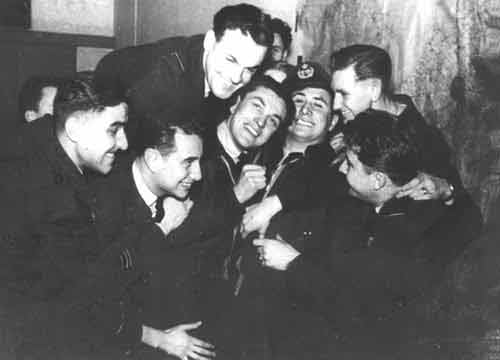 ...but inside it is warm and cosy!
f.l.t.r.:
Chuck Van Heyste, Paul Ocket, Louis Reeckmans, Sphinx Van Sieleghem, Toon Vingerhoets, Joe Boone en Coco Blanchy.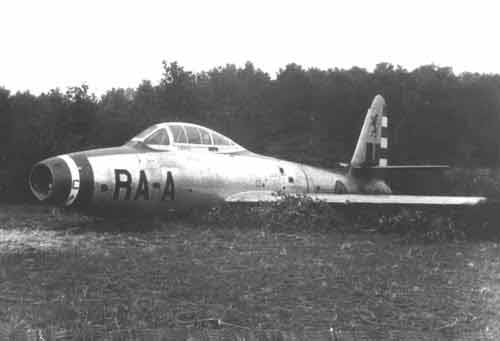 August 5 pilot Marcel Bieuvelet feels an explosion in the engine of the FZ-62/RA-A.
Disregarding his leader's orders the pilot does not eject and performs a successful
belly landing in the vicinity of Eindhoven, Netherlands.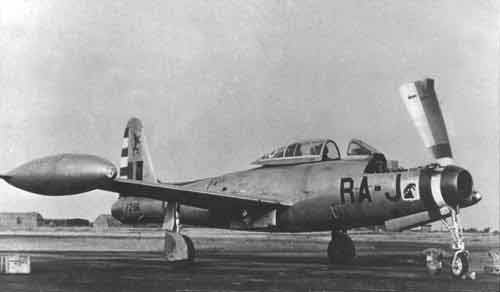 The Republic F-84G Thunderjet FZ-66/RA-J in full 27th 'Black Panthers' Squadron colors at Sylt,
Northern Germany during a gunnery training period October and November 1954.